If you have been searching for the coolest ping pong balls? Then you are in the right place. There are different types of ping pong balls. In this article, you will find out; what are the best ping pong balls and how you can choose the best ping pong balls for your sports. The best one depends on how they are made and what are materials used.
With the help of this article, you will be able to purchase the best ping pong ball and will not be confused when you see a plenty of options to choose from. By getting the best ping pong ball, your game won't be messed up, and you will play like a pro. First of all, let's start with;
What is a ping pong ball?
A ping pong ball is made from plastics or celluloid, which is a composition of camphor and nitrocellulose. This ping pong ball has a matte finish and is filled with air. It has a mass of about 2.7 grams and 40 mm in diameter.
Nittaku Premium Table Tennis Balls
The Nittaku Premium 40+ are ITTF approved and also legal tournament ping pong balls for all ITTF. These ping pong balls are non-celluloid, and they have excellent bounce.
They are round, durable, with high-quality and consistency. When playing with the Nittaku premium, you will feel the control where the ball lands.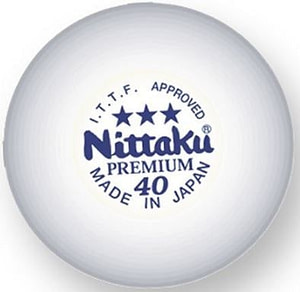 Features
The Nittaku Premium 40+ are perfectly round
These balls are durable and safer
Made from poly
ITTF approved
They have outstanding features
Delivers amazing performance
Favored by professionals
STIGA 1-Star Table Tennis Balls
The Stiga 3 star ping pong ball is one of the well-known brands when it comes to ping pong or table tennis balls. This ball is approved by the (USATT) United States of America Table Tennis. It is entirely International standard with about 40 mm in size.
Stiga 3-star are orange ping pong balls, which makes them very visible and also provides an excellent bounce.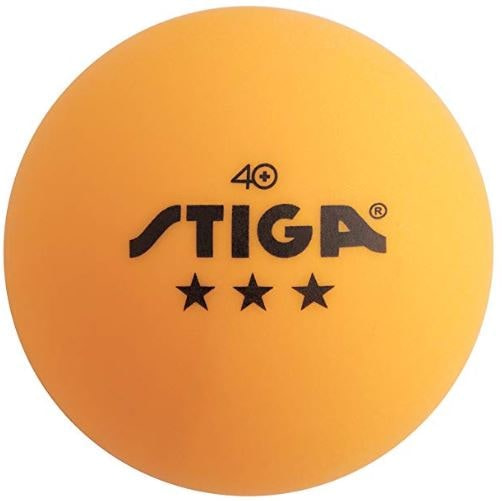 Features
The Stiga 3-star has good bounce, spin, and control
These balls are USATT approved
The high-quality of these balls makes them unique
It is a 3-star rating ball, and it comes in a package of 6 balls
40 mm in size
ITTF approved
The JOOLA is outdoor table tennis balls that are specially produced to withstand all types of weather conditions. These ping pong balls are perfect for playing outdoors, and they can last through humidity, heat, cold, UV rays, and do much more. Get Joola and start playing like a champion even under the rain.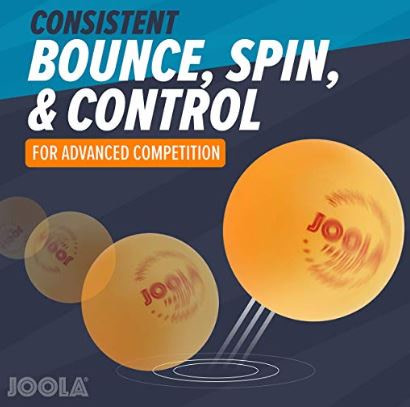 Features
Superior quality
Keep the party going all night
It can be played through all types of weather
Butterfly Ping Pong Balls
The Butterfly ping pong balls are made of top-notch Polystyrene material, making them safe and durable. They arrive in a noticeable white shading, which makes them appealing just as distinguishable during a professional ping pong game.
The butterfly G40+ is a 3-star rating, which makes them ideal for any game, be it official or practice. Right now the butterfly ping pong balls are the absolute best ping pong balls accessible in the market.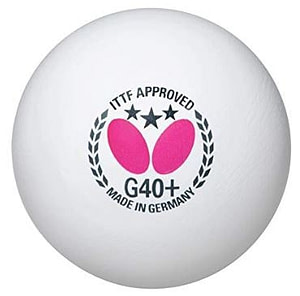 Features
It comes in 12 balls in a pack
Made with plastic and high-quality polystyrene
Has great bounce
Very round
ITTF approved
MAPOL Orange Premium Ping Pong Balls
The Mapol is one of the best table tennis training balls used by players in training, who need to improve their table tennis aptitudes. In the case that the ball is lost or distant, they can be easily seen because of their unique orange color.
The balls have a decent turn on them and are amazingly fun. Control is splendid also. Mapol brand has been producing awesome balls with excellent quality for a while now.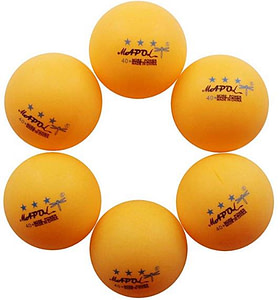 The balls are likewise extremely smooth to hold and in this manner, feel good in any hand. The Mapol 3-star ping pong ball produces an excellent spin and power with makes them flawless and very good fit table tennis professionals.
Features
The Mapol is highly advanced and impressive for training ball
Spin perfectly
Premium quality
Fine bounce
Good power
40 mm smooth ball
The 3-star rating makes them high
KEVENZ 3 Star Balls review
The Kenvez 3-star are incredibly durable and elite balls. They are dependable and have the ideal turn and control required by proficient level players. These are made by best brand of ping pong balls.
These profoundly responsive balls are utilized by both expert and regular players. These balls come in white and orange colors, which are exceptionally very visible colors during a table tennis game.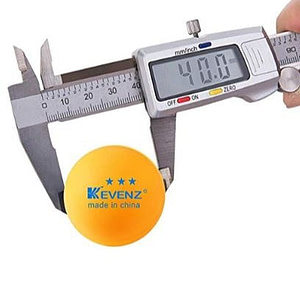 The balls work fine for ability improving yet are not ideal for authentic competitions. The Kenvens ping pong ball gives it's players an excellent feeling when being played.
In the event that you attempt to contrast this and different models in its value run, the KEVENZ 3-Star 40mm Table Tennis Balls will get high ground, as far as quality, sturdiness, and execution.
Features
Very attractive in color
Perfect for training
100 balls in a package
It can withstand more than 1000 impact
Xushaofa 40+ Seamless Poly Table Tennis Balls
The Xushaofa 40+ is considered one of the favorite and best ping pong ball in the market. The balls have an elevated level of spin and bounce. The balls are additionally somewhat more prominent than other table tennis balls.
This ping pong ball is a 3-star ball that means it is sturdy, durable, and they have a good bounce, which is perfect for professional game practice.
The Xushaofa are hard plastic balls, which is route superior to anything most celluloid made balls accessible all over. The ball doesn't have to change direction, which is astonishing in reality.
Features
Made with high-quality material
ITTF approved
It has a good bounce
USATT approved
More durable and very safe
Good spin
GOGO 3-Star Ping Pong Balls
The Gogo 3-star table tennis balls are top-notch premium balls that are ideal for all-around play. This ping pong ball comes in white and orange color, which can be used for both relaxation home play or tournament. They are lightweight because it is made with celluloid material.
Being lightweight gives the balls an additional skip, which is reliable. The table tennis balls likewise have a remarkable turn and more extended volleys.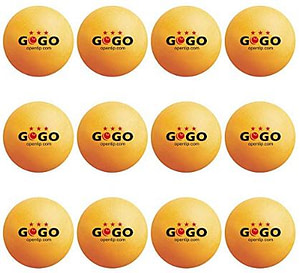 The Gogo 3-star table tennis balls have a consistent 40mm plan, settling on them the perfect decision for proficient training sessions and any competition.
The Gogo table tennis ball is of premium quality with a 3-star ping pong ball rating. Most ping pong players have exceptionally suggested the Gogo 3-star balls.
Features
These balls come in white and orange color
ITTF approved
The right choice for leisure
Comes with about 144 balls
Questions And Answers
What does the star mean on ping pong balls?
In ping pong ball, the 1-star and the 2-star balls are less reliable, and they are being purchased in packs of 100 to 200 for practice. While the 3-star speaks to be the best balls, and they are perfect for tournaments and matches.
Has the ping pong always be made of celluloid?
Of course, No. The non-celluloid ping pong plastic balls have always been used for decades in competition. The recreational low-quality ping pong plastic balls have been accessible.
Why did ITTF make this resolution for a new plastic ball?
The new resolution was made because the celluloid, which is also plastic, is a combustible material and has been prohibited from shipping and storing guidelines.
Celluloid was at one time a broadly utilized modern plastic. However, it is never again a typical material. Source: paddle palace
Are celluloid balls no longer legal?
Celluloid balls are always legal for sports. Celluloid balls are still ITTF approved. Source: paddle palace
What is the standard size of a table tennis ball?
The ping pong ball or table tennis ball was changed from 38mm to 40 mm in size in year 2000.
Are ping pong balls and table tennis balls the same?
Of course, yes. They are practically the same game.
What is the difference between the 1-star and 3-star ping pong balls?
The 1-star ping pong balls are bought in large quantities pack of 100 – 200, while the 3-star ping pong balls are kept for real tournaments. According to sports.stakexchange
What is the new ping pong ball rule?
After first July 1st, 2014, it was passed that one must use non- celluloid plastic. Source: paddle palace
Final Verdict
Finally, I am sure this article explains what are the best ping pong balls; and how consistent the ping pong balls must be. This ball has a breaking odds, and also they have been fabricated from the best polystyrene.
You should also ensure that the rating isn't beneath two stars, as this sort of balls usually is exceptionally low-quality. Continuously ensure that the balls you have obtained are not overrated. A significant expense doesn't invariably mean they will furnish you with higher quality.
Ultimately, you should also try to pick a ball, as indicated by your inclinations. Although a ping pong ball may have a 3-star or even a higher rating, it might not be suitable for you. Continuously ensure you are alright with the ball you are playing with. I hope this article was useful and accommodating.